Our programs
"Children are the world's most valuable resource and its best hope for the future"
– John F Kennedy
Basil Woods Juniors
(Preschool Academy)

Basil Woods Preschool Academy seeks to provide high-quality education to young learners through a combination of world-class infrastructure, qualified and committed facilitators, innovative curriculum, use of technology and novel interventions designed to improve the learning outcomes. Our curriculum and teaching methodology are designed to kindle the inquisitiveness of children and to make learning "rich, real and relevant."
The Basil Woods preschool program covers all the aspects of early childhood development including sensorial learning, cognition and creative abilities, language, Mathematics, Geography, Science, practical life with personality development, Yoga and Value education.
Children work in groups and individually in an integrated environment, to explore the world of learning and develop their maximum potential. Every material in a Basil Woods classroom kindles the natural curiosity of the child and enables immersive learning.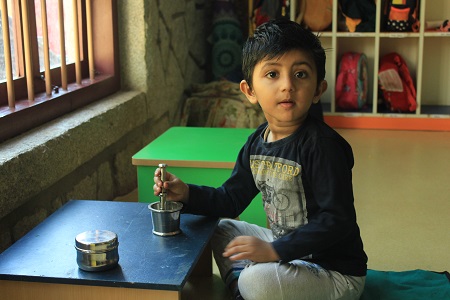 Extended care program
Age: 1 year to 10 years
For the first time in India
Culture Connect
A special co-curricular module to explain the  rich cultural heritage of India in an engaging and fun-filled manner!