Events @ Basil Woods
"Celebrating the spirit of early childhood"
Junior Showtime
Get your tickets to the coolest big screen for little ones! 
It's showtime, so join us for a magical movie screening of the all time kids favourite, 'Finding Nemo' 
Get swept away on an adventure of family fun, food and many more surprises in store!
Grab your passes Now! Call +919980911944
June 29, 2019 4:00PM-6:00PM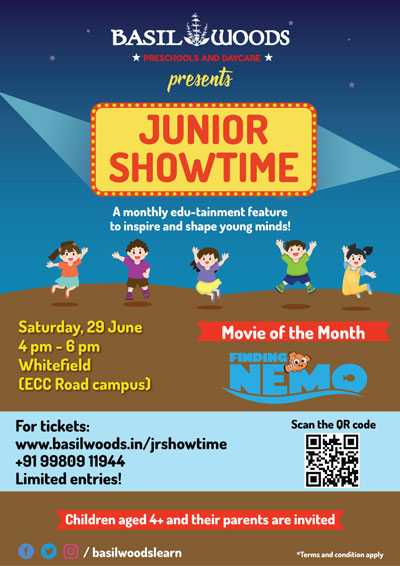 Vidyarambh Manikonda
Presenting, Vidyarambh @ Basil Woods, Manikonda, Hyderabad! Basil Woods preschool academy cordially invites you and your family to attend Vidyarambh on June 8, 2019, 9:30 am onwards.
A wondrous beginning to your child's education!
Program highlights:
Healthy Kids Contest | Junior Chefs | Animation Show | Pottery Clay Modelling | Origami Crafts | Rhythm & Games and much more.
You and your tiny tots are cordially invited to join in
June 8, 2019 9:30AM-Onwards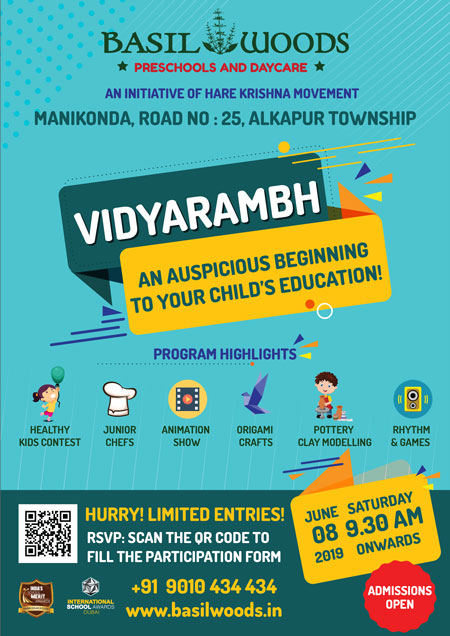 Summer Camp
Presenting, Summer Camp @ Basil Woods, Marathahalli/Karthik Nagar! Key features:- Kinder yoga, Mantra Meditation, Sanskrit Rhymes, Storytelling, Organic Gardening, Arts & Crafts, team building games and many more.
Transport Available!
April 1st - April 30th 9:00AM-01:00PM
Basil Woods, Karthik Nagar
Krishna Fiesta 2018
Parents!!! Basilwoods Preschool Academy invites you to be part of the Janmashtami celebration, Krishna Fiesta 2018. Find details here to help your child participate in various contests. Loaded with lots of fun and games galore, we assure to keep you and your family entertained throughout…
MBT Shubhameru Convention Hall